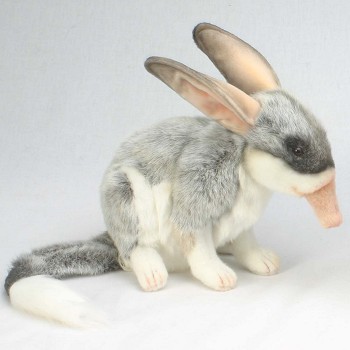 Plush Bilby
European style quality from Hansa. Lovingly designed from portraits of real animals. Hand made in small lots.
11½ Inches Long
Nose to Rump
Hansa Plush Bilby
HN4600
$55.95
Sold Out
No Longer Available
12 Jun 15
The Australian Easter Bunny
The bilby, also known as the rabbit-eared bandicoot, has survived where other desert-dwellers have disappeared, and it is one of very few medium-sized mammals still found in Western Australia's desert regions. Males may grow up to half a metre long, but females are smaller. Bilbies are largely solitary, widely dispersed and found in low numbers. They are comparatively slow moving but have superb hearing. They also have strong claws and are very efficient burrowers. In sandy soil they can disappear from sight within three minutes. In recent years, there have been calls for this strikingly attractive and uniquely Australian mammal to replace the Easter bunny.