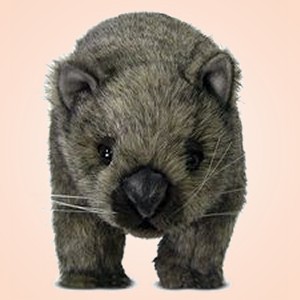 Stuffed Plush
Wombat
Handcrafted European style
lifelike stuffed plush Wombat from Hansa.
15 Inches Long
9 Inches Tall
Stuffed Plush Hansa Wombat
HN3248
$47.95
Sold Out
No Longer Available
9 Dec 12
Wombats are Australian marsupials; they are short-legged, muscular quadrupeds, approximately 39 inches in length with a very short tail. They are found in forested, mountainous, and heathland areas of south-eastern Australia and Tasmania. The name wombat comes from the Eora Aboriginal community who were the original inhabitants of the Sydney area.
Wombats dig extensive burrow systems with rodent-like front teeth and powerful claws. One distinctive adaptation of wombats is their backwards pouch. The advantage of a backwards-facing pouch is that when digging, the wombat does not gather dirt in its pouch over its young. Wombats are not commonly seen, but leave ample evidence of their passage, treating fences as minor inconveniences to be gone through or under, and leaving distinctive cubic faeces.
Wombats are herbivores; their diet consists mostly of grasses, sedges, herbs, bark and roots.